Good morning from beautiful San Jose California a city that looks like they built the whole place out of Easton Town Center.
Beers cost $150 here so it's hard to see why anybody who makes under seven figures is fleeing this area for a region where it's possible to purchase a house for under $3 million.
Dr. Joel and I made it to the Browns game I assume. I say assume because that's not a thing that has happened yet because I decided to write this dispatch before ingesting mind poison in a parking lot for five hours on a Monday afternoon.
If the Browns misbehaved on these nerd-ass Niners then I'm flying the plane back to Cleveland and crash-landing in the Muni Lot to begin tailgating for the culmination of my midlife crisis against the Seahawks.
QUARANTINE NEW ALBANY JUST TO BE SAFE
New Albany has always creeped me out because what self-respecting person wants to live in a town created by a reclusive mobbed-up oversexed billionaire who sells thongs to children.
Turns out people a lot more successful than me would love to live in New Albany the place with plantation vibes. On top of that it also appears to have served as a prison for a young woman who was assaulted by disgraced dead fake billionaire pedophile Jeffrey Epstein.
From Sara Ellison and Jonathan O'Connell of washingtonpost.com:
NEW ALBANY, Ohio — The first time the artist Maria Farmer says she heard the name of fashion billionaire Leslie Wexner, she recalled, was when her employer, financier Jeffrey Epstein, told her, "Les loves me. He'll let me do anything."

Farmer, then 26, had just been invited to create two large-scale paintings for the upcoming film "As Good As It Gets," starring Jack Nicholson. Epstein offered Farmer an unexpected location to do the work in the summer of 1996: an expansive country home in New Albany, Ohio, located amid 336 acres of land owned by Wexner and guarded in part by sheriff's deputies employed by the longtime chief executive of Victoria's Secret and the Limited.

It was there, Farmer said in an affidavit she submitted as part of an Epstein-related lawsuit, that she was molested by Epstein and his associate Ghislaine Maxwell.

In a series of interviews with The Washington Post, Farmer, 50, spoke publicly for the first time about Wexner and his wife, Abigail. She never met Leslie and says she spoke to Abigail only by phone while at the New Albany home. But she says she holds him "responsible for what happened to me" because the alleged assault happened at the hands of one of his closest advisers on property Farmer says was monitored by Abigail and the Wexner security team. She says that she was held against her will at the property by Wexner's security staff after her alleged assault, until her father came to pick her up.
My friend in Oregon said man that can't all be true considering the cops were employed to imprison this poor young woman. Little did he know he had a history lesson coming on police being created to literally to protect guys like Wexner and their wealth from union thugs and their outrageous demands of living wages.
Hopefully this kicks off another round of reporters saying hmmm doesn't seem like everything is on level with this Wexner fella I better get to Ohio to see what other stories can be found there. Trust me they won't have to look far.
You'd think maybe Ohio State would announce they're at least considering if having this guy's name on all their buildings might be bad. But I've seen nothing of the sort which means they'll ride the Wexner gravy train until children's bones are exhumed from the Wexner tomato garden then the University will act like who the hell is this Wexner guy again we've never heard of him?
MIKE DEWINE DOES SOMETHING
Ohio Republicans live in terror of the gun fuckers lobby so it's no surprise instead of knuckling down and doing what Mike DeWine knows is right like automatic background checks and red flags laws he instead once again kissed a gemstone on the gauntleted fist of House Speaker Larry Householder the most powerful person in state government.
WESTERVILLE SHOWCASES SUBURB SHIFT
I hate the suburbs and do my best to avoid them but the Republicans elected somebody so racist and so odious that its turned many once-reliable Red votes into communists who no longer believe in private property.
A handful of the 380 people seeking the Democratic presidential nomination will be in Westerville next week to campaign for a job where it'd almost be impossible to be as bad as the last guy so that's nice at least.
It's a city hometown boy John Kasich might not recognize if he were ever there instead of pretending to be a sensible moderate in a CNN studio.
From Rich Exner of cleveland.com:
WESTERVILLE, Ohio - Suburban Westerville, the place John Kasich calls home and where incomes dwarf those of typical Ohioans, might not traditionally be thought of as Democratic territory.

But in picking the Columbus suburb for the Oct. 15 presidential debate, Democrats chose a city that fits a narrative they hope will help carry them to victory next year - growing popularity in suburbia.

Voting trends show that Westerville is a solid example of rising Democratic popularity that stretches across the Columbus suburbs.

For example, there was nearly a 13-point swing in the presidential vote. In 2012, Republican Mitt Romney defeated Barack Obama, 53.4% to 45.1% in Westerville. But in 2016, Democrat Hillary Clinton won there over Trump, 49.6% to 45.2%.

Upper Arlington also flipped from red to blue in the last presidential election, as did Hilliard. And although Dublin remained in the GOP corner, Trump squeaked out a 48.3% to 47.5% win there where Romney had easily dispatched Obama, 60.4% to 38.5%.
I'd like to think President Business Deals has cost the Republicans the suburbs forever but I'm fairly confident they'll go back to voting for their tax cuts and business deregulations when the next Republican isn't dumb enough to say the racist part out loud or commit crimes while squawking at reporters. As I've always said if Deals were 10% smarter this country would be in more grave danger than it currently is.
STOP GIVING PUBLIC MONEY TO PRIVATE ENTITIES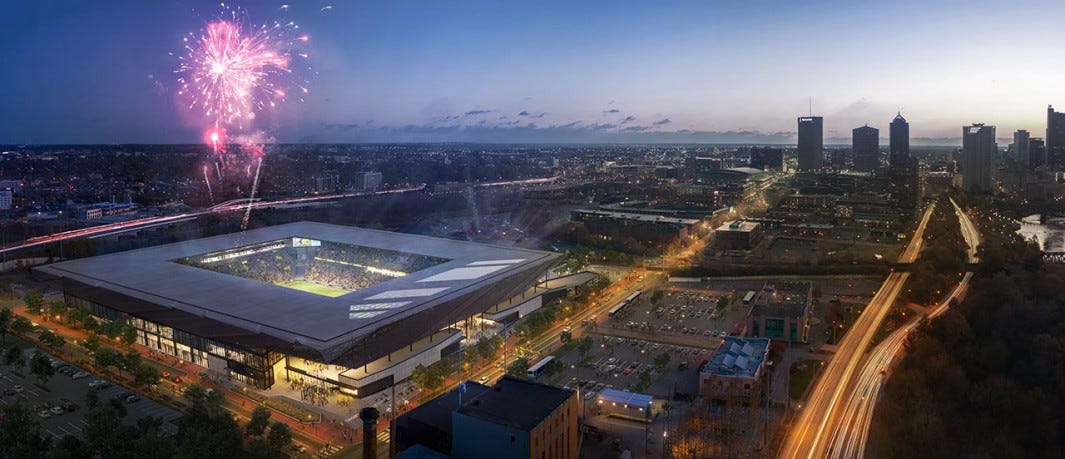 I like the Columbus Crew and look forward to being able to walk to games instead of hiking across railroad tracks to avoid the parking bottleneck created any time more than 10 people leave the Ohio Fairgrounds at the same time. That said I don't like any of this.
From Bill Bush of dispatch.com:
Since December, when Columbus Mayor Andrew J. Ginther joined other officials to announce a proposed new Downtown soccer stadium and revamped practice facility at Mapfre Stadium for the Columbus Crew SC, the city has reported its public contribution at $50 million.

But the city's total cost is really much higher — close to double the $50 million, according to information included in hundreds of city emails, reports and spreadsheets obtained by The Dispatch through a request under the Ohio Public Records Act.

Starting early this year, as city department heads planned for the stadium, documents show they didn't have one budget, but two: costs included in the $50 million and those outside of it, spread across various departmental budgets and funding sources.
Keith Naas a Save-the-Crew Militant says Bush used fuzzy math to conjure the "double original costs" headline but they can squabble over the numbers all they want at the end of the day we're giving $50 million to a franchise that belongs to a Ponzi Scheme. Our kids don't even have air conditioned schools.
A TALE OF TWO COUNTIES
Marion County is the best county in Ohio when we're talking about counties with sentimental value to me and nothing else important like jobs, freedom or economic security.
From Catherine Cadinsky of dispatch.com:
Delaware and Marion counties sit side by side, but when it comes to the well-being of women, they couldn't be farther apart.

Delaware County's teen birth rate is among the lowest in Ohio: about 7 per 1,000 females ages 15 to 19. In neighboring Marion County, the rate is nearly 7 times that, at 48 per 1,000, one of the highest in the state.

Teen pregnancy is associated with reductions in educational accomplishments and future earnings, and the two counties stand in stark contrast on both measures. In Marion County, the percentage of women living in poverty is three times that of Delaware County, while the share with a post-high-school degree is half that of Delaware County.

Such disparities, along with some encouraging trends, are highlighted in a new analysis by the Center for Community Solutions in Cleveland assessing how women are faring in measures of health, economic status and educational attainment in Ohio's 88 counties.
If I'm being honest if I had a daughter I would not think hmmm Marion County would be a fine place to raise a young lady. Probably why all the girls I knew in high school moved as far away as they could as soon as soon as they were able.
MORE SCARE TACTICS FROM THE RACIST NERDS FOR ENERGY SECURITY
The racist nerds attempting to bend state government to the will of an energy conglomerate are coming back to your mailbox this week with another cacophony of racist nonsense. Please redirect to the nearest recycling bin so the paper can be reborn in its next life as something useful.
BILLY GOAT MISBEHAVES IN ASHLAND COUNTY
Coming home to a broken glass door would be terrifying enough let alone finding a surly horned animal in your bathroom.
From Talia Naquin of fox8.com:
ASHLAND COUNTY, Ohio - A Sullivan Township teen returned home Friday afternoon to find the sliding glass door to the house shattered.

He ventured inside and found the goat in the bathroom.

The perpetrator was a very large billy goat.

According to a report from dispatchers, he then ran through the house and got into a bathroom.

In a 911 call, the homeowner says she saw it all on the home security camera.
Cops removed him from the house and didn't charge him with a crime because as we all know our puny laws hold no power over rowdy goats.
THOSE WMDs. At long last alcoholic tide pods are here… Twelve Ohio breweries win record 15 medals at the Great American Beer Festival… Ohio mall in 2008… In the land of self-defeat… Why you should work less and spend more time on your hobbies.