Browns are .500 and my life is back on track unless we lose Sunday then it's back to reality.
My personal life imploded in March and as a chronically depressed middle-aged man parsing through the aftermath I've channeled my divorced dad energy into exactly two things: Cheering for the Cleveland Browns and growing a beard that makes me look like I've been marooned on an island for the last 30 years.
Sprinkle in some alcohol abuse cloaked in the clothing of totally normal NFL fan behavior and you had the start of a special recipe in New York City this weekend even before I decided to buy a Baby Billy #69 custom jersey.
I understand why folks might not want to live in the Big Apple but you're a clown or a cop or a clown who moonlights as a cop if you can't go to New York City and spend 72 hours having the time of your life considering anything you could need is within 1.5 miles of you at all times.
England. Portugal. Ireland. China. Germany. From construction worker to assistant prosecuting attorney to TSA supervising agent Baby Billy mingled with them all. Never had a problem with anyone until a dad and his adult son made the mistake of maliciously heckling me when Jets and Browns fans were roasting a rowdy 16-year-old in a Sam Darnold jersey who had never paid an energy bill in his life.
The son may have popped off first. All I know for sure is I told a Baby Boomer and his adult son that I was taking them out of the stadium on a leash when my team beat theirs. It ended as a stain on New Jersey football when they texted security for the high crime of standing during a football game. Hopefully they at least took a picture of me as a family memento of that time a man in a wig dog walked them on national television and made them cry to security.
The Browns losing on Sunday would be the best thing for my health it's been a nice reprieve from the drum beat of everything else that surrounds our state and my life and if the Browns go to 2-1 I'm not talking about anything else in this newsletter. It will separate the subscribers from the blood riders and I'm fine with that.
DISPLACED LORDSTOWN WORKERS NOW ON STRIKE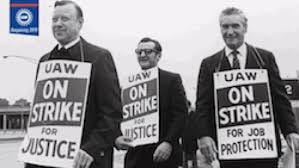 General Motors crippled Lordstown Ohio when it shuttered the Chevy Cruze plant and the company stock shot through the roof. The corporation isn't done cutting costs as its pushed its United Auto Workers union into a strike after severing health benefits.
It's just another punch in the gut for the workers that moved to Toledo rather than lose their job.
From Liz Skalka of toledoblade.com:
Since beginning a new job in Toledo, Sue Bell has traveled back to Warren, Ohio, every weekend to be with her husband and to spend time in a community she still considers home.

But there's one place she goes through lengths to avoid: the shuttered General Motors factory in Lordstown where she worked for 25 years before transferring to the automaker's Toledo Transmission plant.

"It's too emotional," the 50-year-old said outside the plant Monday, straining to be heard over honking cars blaring their support for 100 or so strikers comprising the afternoon picket line. "I spent my whole life there."

Just a few months after moving to Toledo, where she works assembling transmissions for GM vehicles, Ms. Bell's life is again in upheaval. She's one of nearly 50,000 United Auto Workers members nationwide who are striking at GM facilities for better wages and the reopening of idled plants, like the one she left in Lordstown when GM ended production of its Chevrolet Cruze in March.
President Business Deals is attempting to force General Motors to re-open the Lordstown plant. Nobody reading this humble newsletter is under the impression the president actually supports workers' rights yet it's a shrewd political move and if it happens you can kiss Ohio's chances of turning blue in 2020 goodbye.
SOUNDS LIKE THE AMISH RAN WILD FOR THE BROWNS TOO
I'm not sure what would be more humiliating getting a DUI while piloting a buggy or getting popped with a 12-pack of Michelob Ultra and radio in 2019.
From wkbn.com:
NORTH BLOOMFIELD, Ohio (WKBN) – Deputies said they pulled over an Amish buggy complete with alcohol and a stereo system early Sunday morning.

Just before 1 a.m., Trumbull County sheriff's deputies said they saw two Amish men drinking alcohol while riding on the back of a horse and buggy.

The deputies said there was a 12-pack of Michelob Ultra on top of the buggy.

They pulled the buggy over at Donley and Mahan Parker Roads in North Bloomfield, Ohio.
I'd honestly be curious to know what is the graver sin among the Amish the alcohol or the radio. Either way in this day and age I don't have the heart or the willpower to maintain that lifestyle.
OHIO'S WEED PROGRAM IS INEFFICIENT SO IT'S WORKING AS INTENDED
Ohio only legalized medical marijuana to skirt direct action from the ballot box by voters. Since incepting the program the state has slow-rolled the entire process because the last thing the pale males that run this state want is a bunch of people smoking a plant that helps them with their diseases.
The results have been predictable.
From Patrick Cooley of dispatch.com:
Ohio's medical marijuana cardholders find medicinal cannabis pricey and inconvenient to obtain, according to a survey conducted by Ohio State University's Drug Enforcement Policy Center and the nonprofit advocacy group Harm Reduction Ohio.

Patients said cost is the largest barrier to buying medical marijuana, followed by the distance to the nearest dispensary, the survey showed. After that comes the difficulty obtaining the doctor's recommendation necessary to acquire a medical marijuana card.

Nearly half of the 640 patients who responded to the survey — which was posted on social media accounts frequented by medical marijuana users — said they were "very dissatisfied" with the program, and less than 4% said they were "very satisfied." Ohio has roughly 52,000 medical marijuana cardholders.

Though unscientific, the survey released this month represents one of the first attempts to gauge patients' thoughts on the the state's medicinal cannabis program. The state's first dispensary opened in January.
It's going to take federal action before we'll ever see legalized weed in this state.
CORN BACK
The corn crop was on the brink of disaster a couple of months ago and though the 2019 batch won't be one for the record books the Chinese hoax known as climate change has aided in a bounce back due to it now being 90 degrees in the middle of September.
From Carly Smith of wdtn.com:
Corn in Darke, Preble and Mercer County is about a month behind last year's pace. In Ohio, only 30 percent is in good condition. Heading into the third week of September last year almost 80 percent of corn across the state was considered good or excellent.

…

[Wuebker Farms co-manger Jeff] Wuebker said his corn is beginning to catch up to where he expects a crop to be this time of year. He credits the weather in September. Warm days and cool nights help accumulate the most growing degree days.

"These days that we've had, and the days forecasted with good warm temperatures will continue to make this corn crop mature very quickly," Wuebker said.

The ground is beginning to crack in places. Wuebker said he is starting to see the plant die and some ears fall. He is hoping for a little bit of rain to help finish the crops off.

"We're thankful for the warm weather we have had because it has matured this crop," Wuebker said, "and I think we will have a corn crop here on our farm and in much of northern Darke County."
The farmers needed some good news in this state so we at least have that feather in our cap as we hurdle towards climate disaster.
OHIO STATE BROKE THE LAW TO PROTECT THE BRAND
I have siloed my Ohio State football interests from that of the university itself. I still watch the Buckeyes because what else would I do with my fall Saturdays but every year it's harder to pretend that college football isn't dumb and controlled by dickheaded dudes who won't let a player profit off their own name.
Plus it makes people do insane things and that's coming from a guy whose main hobby right now is drinking liquor with strangers in parking lots.
From Jennifer Smola of dispatch.com:
Ohio State University violated Ohio public records law in its handling of a records request by the student newspaper, a court of claims judge ruled this week.

The university failed to produce public records within a reasonable time and improperly redacted a suspect's name on an initial police report, the court found.

Edward Sutelan, while editor-in-chief of The Lantern student newspaper, filed a public records complaint in February in the Ohio Court of Claims, arguing that Ohio State had improperly redacted the name of the suspect in the report the newspaper had requested. Sutelan is a former intern for The Dispatch but was acting in his capacity with the student newspaper at the time of the complaint.

Following unsuccessful mediation, Ohio State sought to dismiss the case, and, eight months after Sutelan's request, gave The Lantern the police report with the suspect's name restored.
That's a hilarious flex by the Dispatch like oh yeah hey this guy totally interned for us but not while he was breaking a big story like this. While working at Eleven Warriors I read the student paper every day and Edward Sutelan da Gawd as I called him was one of my favorite rising stars so I'm glad to see the big fella get his scalp.
THIS WOULD HAVE BEEN ME IF THE BROWNS LOST
I lost my wallet in the stadium (shocker I know) and if Twitter followers hadn't reassured me that it wouldn't be a problem to get on my plane (it wasn't) than this could have been me because I'm not rich enough to spend more than 48 hours in the Big Apple.
From Sarah Volpenhein, Michaela Sumner and Leonard L. Hayhusrt of marionstar.com:
COLUMBUS — Charges were pending Tuesday against a driver who allegedly led law enforcement on a more than two-hour pursuit Monday afternoon through eight central Ohio counties that left one person injured in a car crash.

Stephen H. Wolfe, 47, is being held in the Coshocton County jail after authorities say he fled from an Ohio Highway Patrol trooper trying to pull over the semi-trailer cab he was driving and led troopers on a high-speed chase Monday covering nearly 150 miles from outside Nevada to Coshocton, said Ohio Highway Patrol Staff Lieutenant Craig Cvetan.

The chase crossed through eight counties - Wyandot, Crawford, Marion, Delaware, Franklin, Licking, Muskingum and Coshocton - and involved not only local law enforcement and highway patrol vehicles, but a fixed-wing plane that tracked the semi-trailer cab's path during part of the pursuit, Cvetan said.

Wolfe is accused of causing a crash in Newark when he allegedly swerved to avoid spike strips and struck a pickup truck, sending its 52-year-old driver to a Columbus hospital with serious injuries, according to Granville post commander Lt. Aaron Vollmer
This may be a controversial opinion but I'm not running for office any time soon so I'm going to let it fly. If you evade law enforcement for more than 60 minutes you should be immediately acquitted of all crimes outside child rape, domestic violence and murder.
THOSE WMDs. In Mexico's cartel country a murder who kills murderers tell's his story… The Dreamcast died too soon but its memory lives on… The bronze objects that have baffled archeologists for centuries… The rise and fall of an Eagle Scout's deadly fentanyl empire.