Rooster Review: Urban Meyer's Pint House
It's with a heavy heart I report I did not hate my experience.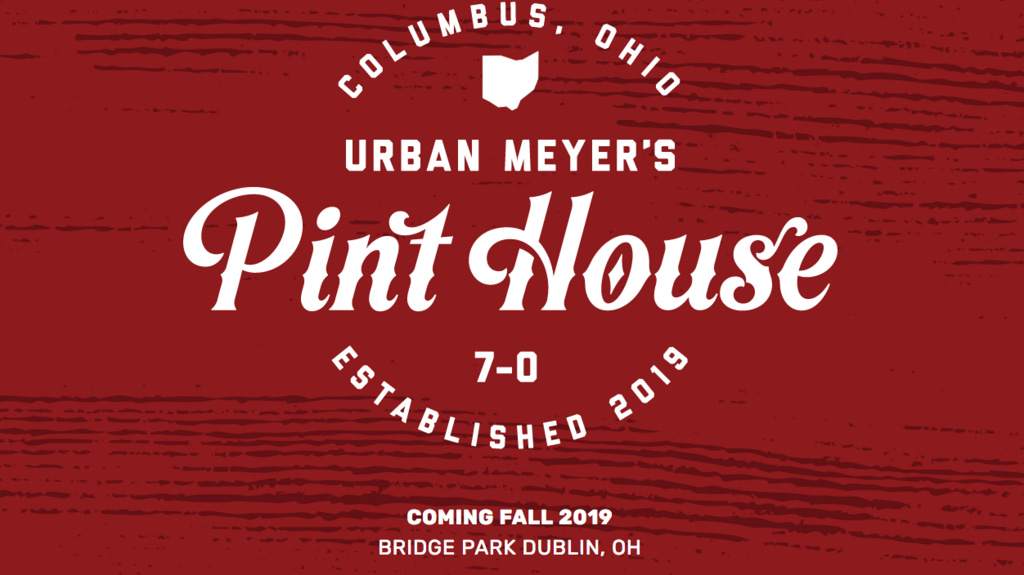 My friend Bexley Pat and I were drunk on a train last month if you can believe that.
We were riding from New York City to New Jersey to watch the Browns smash the Jets and he says to me hey my friend you should start reviewing Columbus restaurants on your blog and writing the bill off on your taxes.
That's a good idea I said and like most good ideas I've heard in my life that's where the discussion ended because bringing good ideas into the world requires work which everyone in my life knows has never exactly been my forte.
Fast forward like three weeks and I tweeted about how I'm old and shitty enough to think coleslaw is good now and how that sucks and a girl who we'll call "Slaw Girl" responds chatting me up about slaw. After deciding I'm willing to risk this internet stranger being a serial killer I said let's go to Urban Meyer's Pint House and to my surprise she called my bluff and said okay sure that sounds good.
That's how I found myself driving to Dublin the city I've detested since my traveling soccer team the legendary Marion Hurricanes beat the Shamrock Schleppers 2-1 and those street urchins spit on their hands before the handshake line.
Anybody who is familiar with how the concept of a "suburb" came to be won't be surprised to learn Dublin is a shrine to white supremacy erected in farm country because their pilgrims couldn't stomach the thought of sending their kids to schools with a sizable black population.
Dublin folks love saying they're from Columbus but as anyone who lives in actual Columbus can tell you that's not exactly true. Dublin might as well be in Toledo.
The whole time I'm plotting to sack Urban Meyer's MAGApplebees while trying to keep up with banter from Slaw Girl who I'm quickly learning is lightyears smarter than me.
We safely arrived in Bridge Park which I guess is what Dublin calls the Fake Short North they built because the only thing that scares their milquetoast residents more than having to walk three blocks is a homeless person asking them for change. At first I thought that was bad until a Twitter follower reminded me fewer Dublin residents in downtown Columbus is objectively a good thing.
I'm thankful I invited Slaw Girl because at this point I'm ready to blow up my car and walk into the Pint House with a burning molotov cocktail in each hand. My mood didn't improve when I walked into the famous coach's new restaurant venture and it looked like I walked into a failed college nightclub that appeared to have been revamped as a Jimmy Buffet Margaritaville.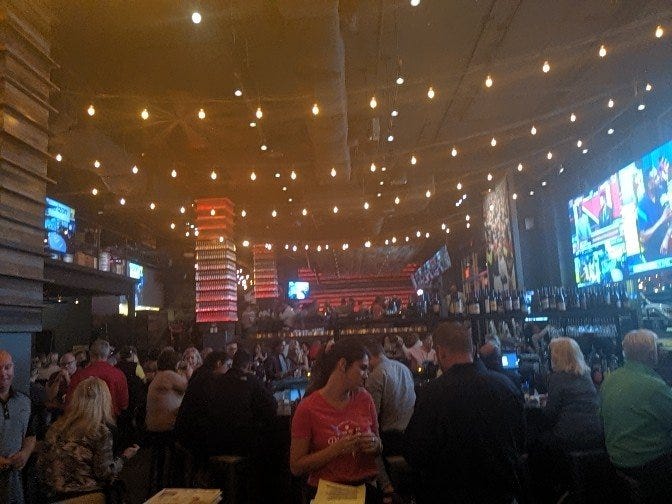 I should have known Urban Meyer the famous 7-0 coach against Michigan would have Dublin's cop dads and tanning salon moms eating out of his hands and I should have booked a reservation for Thursday at 7:30 p.m.
The receptionist told us a table for two would take 20-30 minutes which makes me think holy hell we need some drinks immediately because I'll be damned if I'm going to stand in Dublin sober for more than 30 seconds otherwise I'm going to jail.
You might not know even by the expertly shot photograph above that there are two bars in the Pint House. As a doofy white guy grabbing the attention of a bartender has never been something I'd put on a résumé as a skill. After standing awkwardly at the bar downstairs I ventured to the "upstairs" bar only to be shut down before shuffling back to the bar where I began.
Eventually I got the attention of a bartender and asked her specifically for two jalapeño margaritas. After a stretch of time that made me wonder if they were killing and processing the tequila by hand in the back she eventually returned with two margaritas that looked like this: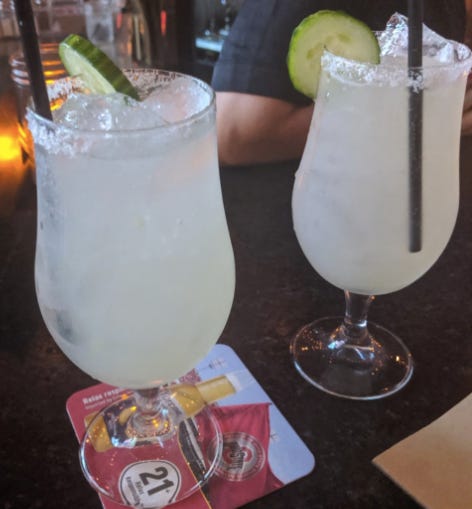 I've had enough spicy margaritas to know some establishments only mix the jalapeños in tumblers before pouring the tipple into the cup. I had also recently heard from my friend Little Petey who is also a spicy margarita connoisseur that a cucumber is a delicious addition to a spicy margarita so for once in my life I showed restraint in judgment when I got served two drinks that did not look the least bit spicy.
Unfortunately Slaw Girl and I were unanimous in our opinions that there was not a trace of spice despite the margarita being undeniably good if a little too sweet.
My eyes look like UFO saucers as I'm thinking this place is exactly what I thought it was and as a Columbus Local Guide I'm about to tombstone Urban's Google rating.
If I were an expert restaurant critic I would have spent the next 15 minutes taking pictures with the giant Urban cut-out near the entrance or the giant wall canvasses of famous Urban memories you might remember as an Ohio State fan like that time he and his wife won a national title with the Buckeyes but none of the two with the Florida Gators thankfully.
One thing I did notice was this Ohio State-themed United States flag which I thought was a curious aesthetic for the owner who banned his amateur players from exercising their First Amendment Rights by kneeling during our nation's fight song and thus disrespecting the sacred American flag that all our troops were sworn to protect.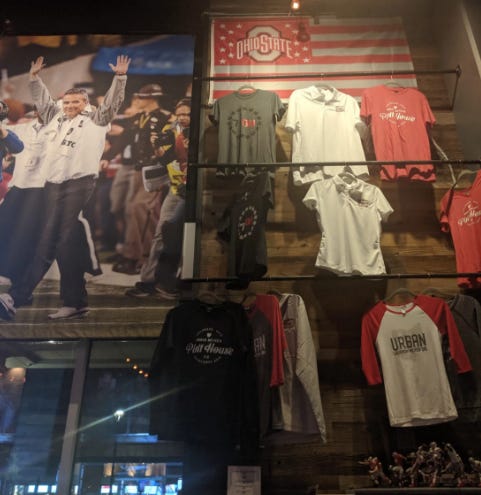 After smirking to myself at my wise observation I continued to tweet and leer at Urban's leathery clientele who undoubtedly voted in slide for President Deals to run the government like a business as if businesses come equipped with their own Treasury Department.
Eventually our "three-person booth" was ready.
I had never heard that term until the hostess escorted us to a back-corner booth with a support beam crashing through the spot where the figurative fourth person would have sat. Again were I an expert I would have documented the booth but I'm an amateur and instead spent the next two hours marveling at the architectural feat.
By now I'm hatching plans to change my name Mark Dantonio because I'm about to put Urban in a Figure-4 Four Leg Lock. We double down on two spicy margaritas which after reading the obnoxiously sized menu we learn is dubbed "The G-Breezy" ($10) after Urban's daughter and also rapper G-Easy I think like I said I'm not an expert yet.
Had we received two more spiceless spicy margaritas I would have paid our tab tipped 20% and left. But then a funny thing happened. Our waitress Krista returned with two objectively spicy margaritas.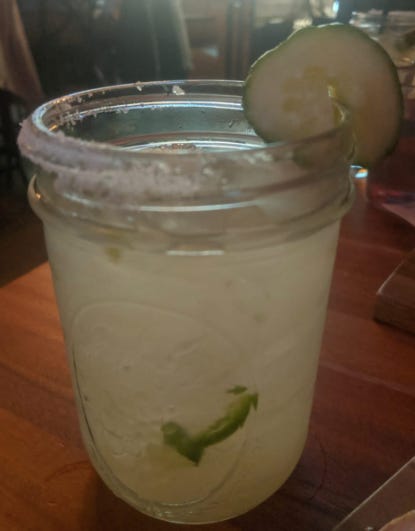 Having one half of one slice of jalapeño made for a massive upgrade on my previous margarita without having to take a sip. But then a funny thing happen. This margarita was spicier than many spicy margaritas I've ordered at places swankier than Urban Meyer's Pint House.
Seafood that is to say the food that comes from our garbage sea disgusts me outside of shrimp, calamari and New Orleans-styled oysters. Despite not living within like 1,500 miles of a live squid I said what the hell let's roll the dice on Urban Meyer's calamari.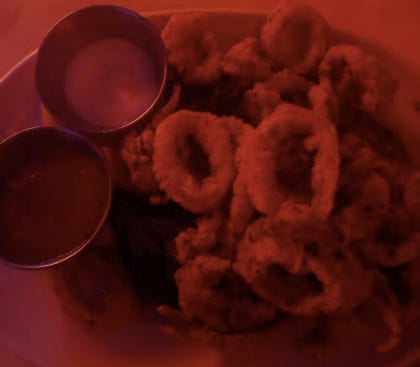 I can almost hear y'all saying "Wow these pictures are so high quality dude have you ever thought about quitting your job of being a snarky jackass online for coins and going into photography?" to which my answer is go fuck yourself.
The best I can say about the deep-fried squid is it wasn't bad especially when you consider it was likely frozen and shipped a thousand miles on the back of a truck. But when I reflect about my experience dancing among the Dublin cognoscenti for an evening the appetizer will be the least memorable part.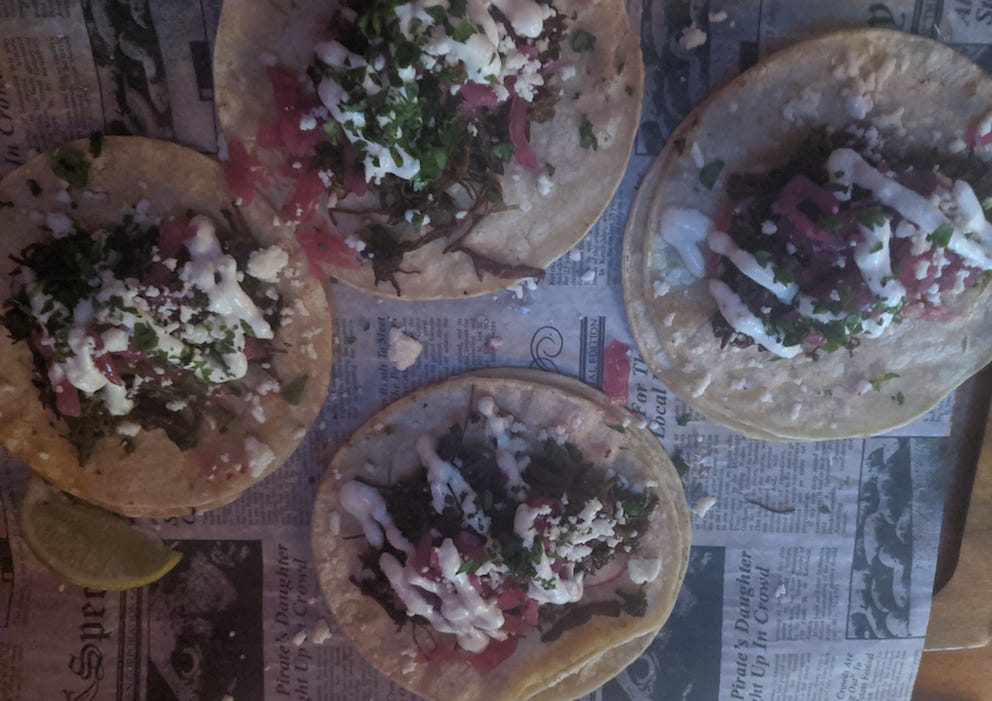 I broke a creed in my life and ordered tacos from a white-owned establishment. They were served on faux newspaper sheets which is a trick uppity places do to justify charging you an extra $2 or whatever on a plate.
I didn't have to take a bite to see they had also broke another creed and only supplied one lime instead of two for four tacos which is a war crime in most countries.
I also didn't appreciate being only having the option of four tacos while sitting in a three-person booth.
Still tacos are like pizza to me. None of it is bad and these tacos were exactly what I think when I hear the phrase "three out of five stars." I will not be on my death bed thinking about those tacos.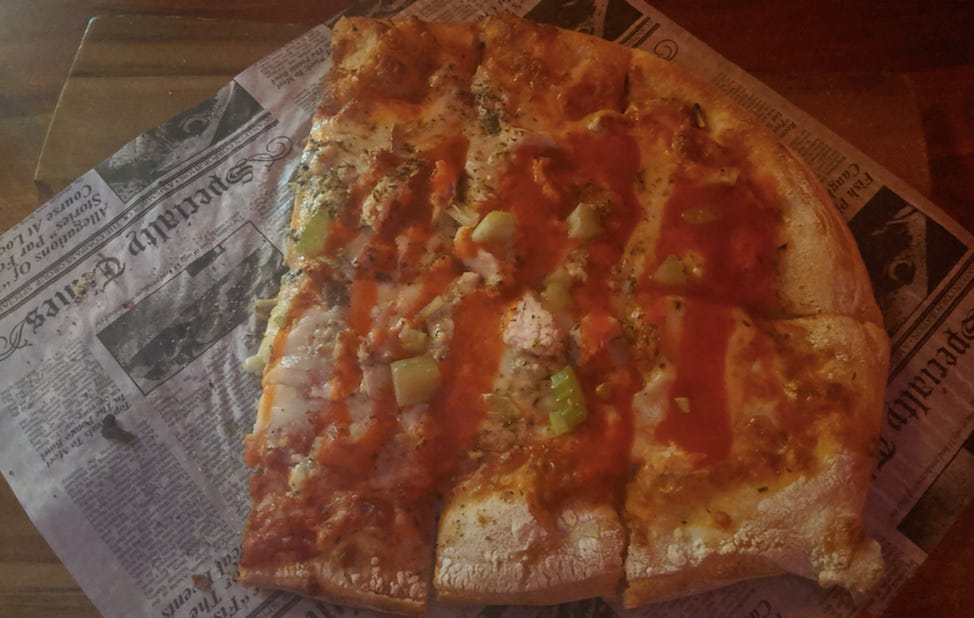 No worries whatever you have to say Slaw Girl already roasted me harder like what the fuck dude you're ostensibly a food critic and you totally forgot to take a picture of the "main course" before we each ate a slice.
Anyway this buffalo chicken pizza ($14) was the highlight of the course and as you can see if somebody told me this was a picture of their frozen pizza I would say okay that looks fine if a little heavy on the sauce.
In the pizza's defense it tasted better than it looked though I'm still annoyed by the price for eight slices of pizza.
TOTAL FOR SIX MARGARITAS, CALAMARI, EIGHT TACOS, AND ONE PIZZA: $155
Fucking Dublin prices man. Thankfully this is all in the hands of the patriots at the Internal Revenue System now.
SERVICE AND OTHER NOTES
I haven't mentioned the service at this point because I wanted to draw attention to our server Krista. I used to wait tables so I understand how hard it is and always try to tip 20% unless I see you spit in my food in which okay fine maybe you had a bad day here's 15%.
Krista who had just come into waitressing in recent weeks was funny and attentive and knowledgeable every step of the way. Apparently Urban's daughter Gigi took one sip of her new signature drink and said that's fine or whatever but can I have some wine as if she wasn't the owner's daughter.
When she brought the bill we complimented her on her service and told her to bring her sorry ass boss over so we could berate him into giving her a raise. When he appeared I told him whatever he's paying Krista was not enough and we were thinking a 30% raise at minimum for her.
He chuckled and said we love Krista but if we gave her a 30% raise she would be making more than me. Like exactly dude I didn't see you doing any work around here. I assume Krista is running the place by now because her service elevated the entire experience.
One thing I do regret is not ordering Shelley's Punch Bowl which is served in a plastic flamingo if you can believe that. It costs $65 people and is meant for more than two people and actually I don't regret not ordering that because if I had I wouldn't have been legally allowed to operate a car and it would have cost $125 to Uber to Franklinton from Dublin.
THE MARIONAIRE STAR RANKINGS:
G-BREEZY SPICY MARGARITA ($10): ⭐️⭐️⭐️
CALAMARI ($14): ⭐️⭐️
BUFFALO PIZZA ($14): ⭐️⭐️⭐️⭐️
SHORT RIB TACOS ($13): ⭐️⭐️⭐️
PRICE VALUE: ⭐️
ATMOSPHERE: ⭐️⭐️
SERVICE: ⭐️⭐️⭐️⭐️⭐️
LOCATION: LOL
I expected to hate every minute of my existence in Urban Meyer's Pint House. While I did not hate it I won't pretend I don't see myself ever saying to my friends hey friends let's take a special trip and go see our guy Urban at his Pint House. It will become especially awkward when he's coaching Notre Dame or USC next season.
But Chris Forno the Columbus restauranteur and business partner of Urban knew what they were doing when they put the new venture in Dublin. Once they work out the kinks that every new restaurant goes through they will be in business for a long time.
OVERALL: ⭐️⭐️⭐️