More Columbus Corporate Dem Cowardice
These people only care about those who can help them.
Was just alerted that this didn't push out today! Better late than never I suppose.
…
Well I learned my lesson about "authorized retailers" of phones. Went into a faux Verizon store yesterday at 2:08 and left at 4:51 without the new phone I went there to get.
I cannot even begin to describe the hellacious nesting doll of incompetent bureaucracy that the worker unleashed when she forgot I wanted to pay for my phone in full rather than get bled out on payments for the next 24 months like a maniac.
Around 4:0 p.m., I paid for the iPhone 11. I was texting on the iPhone 11 in those precious blue bubbles the Apple freaks love to know. But because it was a faux Verizon store, their "computer system is different than corporate's" and the sale wasn't showing up on the store's computers. So they were going to have to cancel the order and start over.
The kicker is my Verizon account had been locked for 24 hours due to the new sale, and she would have to call customer service again for the fifth(!) time.
I almost threw myself through the plate glass window and walked home. But instead I decided to say Fuck Verizon and take my talents to Sprint, which I'll be doing later today.
Verizon have bilked me long enough. (Verizon's and T-Mobile's coverage maps were bullshit, but of course the FCC let them off the hook for deceptive advertising.)
Bernie Sanders has more votes than any of his Democratic competitors, which means the establishment Democrats are starting to get nervous. Coincidentally these are the same types of Democrats that consider people making fun of them on Twitter to be a "vicious attack."
The good news is the Centrist vote is fragmented. The candidate the centrists claimed was the most electable — former Vice President Joe Biden — doesn't even have a delegate awarded to him yet. It'd be wise for them to coalesce around a single candidate. They just can't decide on which is the best candidate to take on a 78-year-old social democrat from Vermont, let alone somebody as insidious as Donald Trump.
Yesterday, two political leaders in Columbus weighed in on their choice for the 2020 presidency. The first was former Mayor Michael Coleman, the longest-serving mayor in Columbus history who could still be mayor right now if he didn't decide to make more money lobbying the same government that he helped craft over his career.
Coleman has apparently decided that to beat a racist billionaire Republican president from New York City, the Democrats need to elect a racist billionaire Republican mayor from New York City.
From Rick Rouan of dispatch.com:
Former New York Mayor Mike Bloomberg has locked down the endorsement of another ex-city executive in Ohio's capital in his quest for the Democratic nomination for president.

Columbus' longest serving mayor, Michael B. Coleman, now is backing Bloomberg's after initially putting his support behind California U.S. Sen. Kamala Harris, who dropped out of the race before voting began.

Coleman is among a slew of current and former Columbus officials who have declared for presidential candidates in the last week. Massachusetts U.S. Sen. Elizabeth Warren and former South Bend, Ind., Mayor Pete Buttigieg also picked up new endorsements.

Coleman was Columbus mayor for a record 16 years before choosing not to seek a fifth term in 2015. He was the city's first black mayor when he was elected in 1999. He has been a lobbyist for Ice Miller, representing some of the city's most high-profile clients, since joining the private sector.
You can tell by how much Coleman is in touch with current Democratic voters by his previous endorsement of Harris, the Senator who dropped out before the first contest began because her staff couldn't stop infighting.
He has shown similar instincts here, though this endorsement is less surprising considering Mike Bloomberg has built his political network by basically bribing mayors across America to endorse him.
It's still a curious choice considering when Bloomberg was a mayor, he initiated a racist stop-and-frisk policy. You don't have to take my word for it because he openly talked about throwing minorities "up against a wall."
AMY GOODMAN: Well, talking about police, let's go to the audio that has just resurfaced of controversial remarks made by former New York City Mayor Mike Bloomberg, who's now running for Democrat on the — on the Democrat — he's now running for Democrat, president on the Democratic line. Of course, I'm getting a little mixed up here, because I'm in New York, and he was a Republican mayor of New York. During a 2015 interview at the Aspen Institute, Bloomberg defended stop-and-frisk, saying, "Ninety-five percent of your murders and murderers and murder victims fit one MO. You can just take the description, xerox it and pass it out to all the cops. They are male minorities, 15 to 25. That's true in New York. It's true in virtually every city."

Bloomberg went on to defend the overpolicing of communities of color, saying, "The way you get the guns out of the kids' hands is to throw them up against the wall and frisk them." I mean, Mayor Bloomberg was sued for this. Hundreds of thousands, something like three-quarters of a million, black and brown young people were thrown up against the wall.
Charles M. Blow of The New York Times wrote about what it was like to be black during the era of stop-and-frisk if you want a more personal look at the heinous policy that Bloomberg has since lied about ending as soon as he got into office when in fact the numbers climbed every year he was in office.
Bloomberg also blamed the 2008 financial crisis not on bankers but on federal mandates targeting "redlining," which as a practice that banks and the real estate industry used to make sure 98% of federal home loans went to white people and ensured there would be no investment in the black or "undesirable" parts of town.
The man is so desperate to stop Bernie Sanders from taxing him fairly (or even the country to move in that direction) that he's flooding Instagram meme accounts with generic ads labeling him as "the cool candidate" and requesting to give the rotted pillars of the Instagram community "a billion dollars" for posting.
Frankly, I'm disgusted by any Democrat that would vote for this guy. Because he's not a Democrat, he's actually a gun-grabbing Republican.
City Council President Shannon Harden, who came to power as a former staffer of Michael Coleman's, to his credit did not take the racist billionaire's money.
However, it should be noted that Shannon, when he's not pretending to care about building mass transit in Columbus, has done neither of those things in Pete's tweet. But that's how endorsements work, both politicians get to shine each other with platitudes and hyperboles.
Would Former Mayor Pete make a better president than Donald Trump? Absolutely. Then again, I would make a better president than Donald Trump and I'm an insane person.
My problem with Pete is he's a lot like Marco Rubio in that he'll be anyone just to be somebody. We're talking about someone who wrote an award-winning essay about his love for Bernie Sanders and was talking like this only last year:
This was a simpler time, when Pete thought he could bamboozle progressives with "hope and change" talk much like President Obama did. When he realized he couldn't outflank Elizabeth Warren (let alone Bernie Sanders) from the left, he decided to tack to the center and try that.
Now his healthcare plan was literally written by the insurance lobby and calls for a supercharged individual mandate, which was the most unpopular feature of Obamacare by a wide margin. Most working people can't afford a $500 emergency, and Pete expects them to pay a retroactive tax of 7.5% of their yearly income to get insurance?
The man is a scammer and has never polled above the margin of error with non-white voters. Now that the primaries go to states like Nevada and South Carolina, Pete will be on life support. He will be dead in the water after Super Tuesday, which means he'll be out of the race before Shannon Hardin can even vote for him on March 17th. Oh well, I'm sure he'll vote for whatever centrist is left standing.
…
The last thing guys like Coleman and Hardin want is the party faithful to keep pushing left, because then careerists like them couldn't please their corporate paymasters and retain office at the same time.
It's also shows why guys like them worked so hard to disenfranchise anyone that opposed them, whether that's from the left and the right.
If you're interested in organizing against the Democrats who can't even properly invest in mass transit in Columbus, there's an event tonight in the Hilltop:
If I were the mayor or city council president or whatever, I would want to attend something like this to see how I can help marginalized people in my city. I'd be shocked if any any city council members or the mayor cared enough to attend.
ANOTHER FORMER WRESTLER ACCUSES JIM JORDAN OF COVERING UP SYSTEMIC SEXUAL ASSAULT
At least five former Ohio State wrestlers have accused him of turning a blind eye to what the university's own investigation labeled an "open secret" of team doctor Richard Strauss' sexually abusing athletes.
Another oe added his name to a list this week when he testified in front of an Ohio Senate committee about a bill that would allow Strauss' victims to sue the university for negligence.
From Andrew J. Tobias of dispatch.com:
Adam DiSabato, a former captain of the OSU wrestling team during the late 80s and early 90s, told members of the House Civil Justice Committee that Jordan and other team officials knew about open-shower team facilities that facilitated sexual harassment and abuse of team wrestlers​, an allegation Jordan has denied.

He also said Jordan called him repeatedly in July 2018, after media outlets quoted his brother, Michael DiSabato, saying Strauss' abuse was common knowledge to those surrounding the wrestling program, including Jordan.

"Jim Jordan called me crying, groveling… begging me to go against my brother…That's the kind of cover-up that's going on there," he said.

"Are you guys going to do what you're voted to do?" he told lawmakers later. "That's the only reason I'm here."
Do I know if this happened for sure? No. But what I do know is Jim Jordan has no problem going on national television and lying to protect a criminal president who has been credibly accused of sexual misconduct by at least 17 women. If this is how he's acting at 55-years-old, why would I suspect him to respect the sanctity of sexual assault accusations all the way back when he was an assistant wrestling coach?
BROWNS FANS TAKE ANOTHER LOSS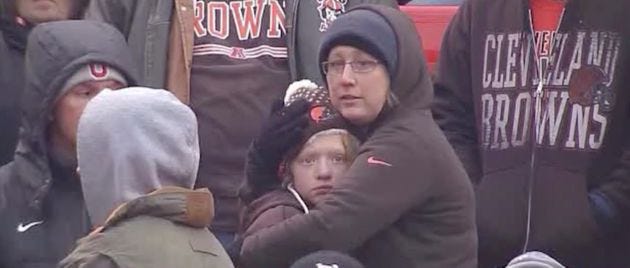 Yesterday, I covered the woman who claimed she gave a blow job to Baker Mayfield in the back of his Escalade parked in a Cheesecake Factory parking lot.
(You freeloaders who didn't hear about that by now would have known about it had you thrown rubies at my feet and subscribed to the Rooster.)
It's with a heavy heart that I report us Browns fans suffered another loss this week as our fandom won't be enough to earn us passage into Ohio's medical marijuana facilities that overcharge you for
From Ben Baby of ESPN.com:
A proposal to alleviate the pain of being a Bengals and Browns fan has gone up in smoke.

Being a fan of the NFL's franchises in Cincinnati and Cleveland does not meet the condition requirements to purchase medical marijuana, an Ohio medical board committee ruled Wednesday.

The panel that met in Columbus turned down several petitions regarding conditions that could help Ohio residents take advantage of a 2016 law that allowed them to buy marijuana medicinally.
Meanwhile, recreational sales of marijuana netted Satan's Mitten a measly $3 million in two weeks of sales.
I love to live in a state controlled by Drug War dinosaurs who think smoking a joint is akin to snorting heroin.
THOSE WMDs. Welcome to Seattle—you're surrounded by three violent volcanoes… Trump seeks to bend Justice Department as impeachment vendetta… The unlikely hero saving California's oldest weekly paper… How ultra-processed foods took over your shopping basket… Lynching, the death penalty and racial terror in the South.