Discover more from The Rooster
All of Ohio's depravity. All the time.
Cops Want Front License Plates Back
Columbus teachers picket City Hall, "a prank" almost kills a teacher, and more.
Welcome to the Rooster Newsletter. Please remember you heard it here second.
My new goal is to live my life with the confidence of the legendary John Cook:
It's easy to think we live in a golden era of grifting. And maybe we do. But don't sleep on the 1830s when anybody calling themselves a doctor could prescribe ketchup for diarrhea and people would just go along with it.
COPS WANT THAT FRONT LICENSE PLATES BACK ON CARS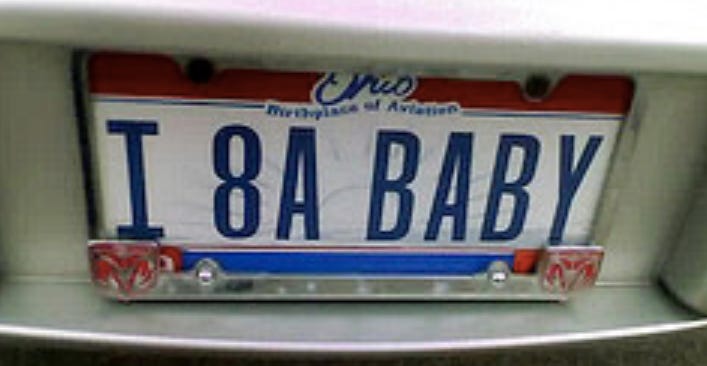 Ohio recently nixed its requirement for a front license plate. House Speaker Larry Householder explained more car manufacturers use the front bumper space for cameras and other technology while drilling holes into the front bumper dents resale prices when cars are sold in other states.
Fine with me, the blogger who isn't responsible for caging criminals. Those kinds of professionals would like the State Legislature to know they made a mistake that needs fixed immediately.
From Randy Ludlow of dispatch.com:
Law enforcement officials and a pair of Republican state senators are taking a stand in favor of saving Ohio's front license plate.

Elimination of the front plate, scheduled to take effect July 1, 2020, "is like having one hand tied behind our back," said Muskingum County Sheriff Matt Lutz.

About 15 county sheriffs, deputies and police officers joined Sens. Joe Uecker of Clermont County and Jay Hottinger of Newark on Monday afternoon to introduce Senate Bill 179 to "reverse a bad decision."

The front license plate is a valuable tool for law enforcement in solving — and preventing — crimes, the senators and officers said at a Statehouse news conference.

"It will make our work harder and make it easier for criminals to succeed," said Grove City Police Chief Richard Butsko Jr., pointing to the 2017 kidnap-murder of Ohio State University student Reagan Tokes, whose body was found in a Grove City park.
Cops are always crying about how if they don't have this one thing, murderers will run wild on our streets. It's 2019 and being murdered is cool now, so I'm not going to spend too much time worrying about the impending crime wave if Ohio goes through with banning front license plates.
Our plates are atrocious. An unmemorable design that also looks dirty to anyone standing more than five feet away. The less of these monstrosities on the road, the better!
800 ANGRY TEACHERS PICKET A CITY COUNCIL MEETING
Columbus is a progressive oasis in the middle of a Republican hellhole which means the city demands wealthy corporations pay their fair share in taxes to properly funds its schools and teachers.
Wait, what's that? I'm being told that's not the case at all, and that Columbus will gladly give millions of dollars to out-of-state developers at the expense of heating and cooling classrooms.
800 teachers and supporters marched on City Hall yesterday to demand better from the city's elected officials.
From Brittany Bailey of 10tv.com:
"(City council members) are part of the school funding problem in Columbus, and they should not be giving tax abatements to wealthy corporations that don't need them," said John Coneglio, president of the Columbus Education Association.

The school district confirms that, between 2000 and 2015, city tax abatements totaled approximately $146 million. But leaders then pointed out that those abatements expire in 10 to 15 years, depending on the terms. The district projects that between 2016 and 2029, it will see $150 million in property tax revenue from those properties that might not have been developed without the initial tax abatement.

10TV also reached out to city leaders for comment but did not receive a reply by the deadline.

"The priority of the city is to make sure wealthy corporations get tax abatements and that our students are in buildings that don't have air conditioning, have leaky roofs, mold, mice, things like that," Coneglio said.
The most galling part is the silence of everyone from Rep. Joyce Beatty to Council President Shannon Hardin about 800 professional constituents being fed up.
Popping off on Twitter about the bad orange man in the White House is easy. It's harder to take a stand against wealthy political donors in the name of traditionally low-income people like children.
Just another failure of basic morality by those in charge of Columbus.
THE WORST "PRANK" IN THE WORLD ALMOST KILLS A TEACHER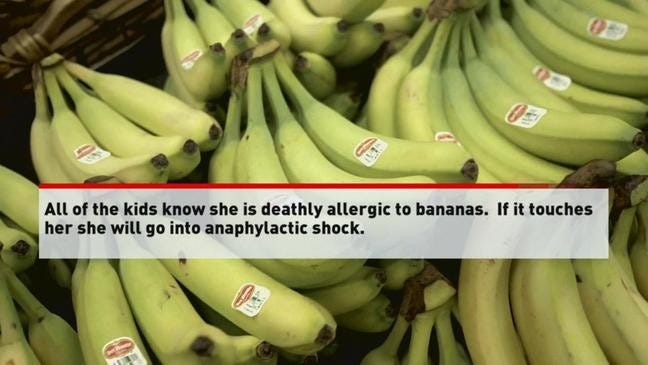 In my day, a prank on a teacher used to be going home and unleashing poorly edited online rants about how much their class sucked. We weren't the smartest students in the world, but at least we never attempted to murder a teacher.
From Lisa Rantala of abc6onyourside.com:
COLUMBUS, Ohio — What may have been considered a prank by a group of middle schoolers could have cost an art teacher her life. All of the students involved are just 12 and 13 years old, but school security said they were well aware their teacher had a serious allergy when it was used against her last school year.

"That could be attempted murder," a CCS security officer is heard telling Columbus Police Officers in body camera video. The call about the attack came from Starling K-8 school last November. On the video, the security officer is seen escorting police to the art teacher's door where signs stating "Banana Free Zone" are posted. Another sign instructs students to wash their hands if they've eaten a banana that day. "All of the kids know she's deathly allergic to bananas," the security officer told police. "If it touches her, she will go into anaphylactic shock."

During lunch, the security staffer said three seventh graders smeared banana on the teacher's door, door knob, and threw them at her while she was inside her classroom. She went into anaphylactic shock within 15 minutes. "She starts to change colors," said the security staffer. "They gave her one epi pen; It wasn't working. They gave her another epi pen (and) her throat was starting to close up."
Yikes. That's something you do when you're dumb and don't understand how serious allergies can be. I remain thankful I survived that time in my life without going to jail.
$300 MILLION CAN'T DO MUCH FOR LAKE ERIE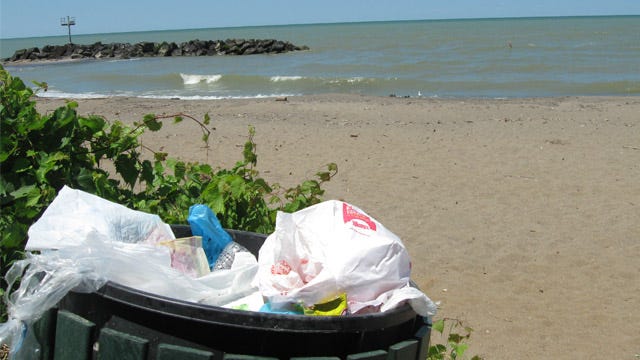 We spend $300 million on restoring the Great Lakes, but we're going to need more drastic action if we're ever going to clean Ohio's crown of rampant plastic trash.
From Laura Johnston of cleveland.com:
Local environmental groups – including Surfrider, Alliance for the Great Lakes and Drink Local. Drink Tap – are interested in applying for grants, announced this month as part of the annual $300 million Great Lakes Restoration Initiative.

But some experts say the money will do little to solve the problem of 22 million pounds of plastic dumped into the Great Lakes each year.

The only real solution is to stop making more plastic, said Sherri A. Mason, sustainability coordinator at Penn State University's Behrend campus.

"It's money and I appreciate money being put toward anything," Mason said. "If you really want to solve this problem, you don't focus on removing the trash... That's a Band-aid on a gaping wound when really what we need are stitches."
No offense to Ms. Mason, but this is America! We use super glue on wounds that need stitches in effort to avoid an unaffordable trip to the hospital because we don't have medical insurance.
MAN OF GOD: LADY, YOU'RE TRASH AND THAT'S COOL FOR ME TO SAY
Pastors play an outsized role in Ohio Republican politics. They aren't afraid to mix it up, either.
Take "controversial" pastor Gary Glick, who serves on Mike DeWine's Faith Advisory Council. While Jesus instructs his disciples to turn the other cheek, Glick went a different route while accosting a Republican state senate candidate at a county fair.
From go.tiffin.com:
Ackison, a Marysville businesswoman and conservative activist, is running for the 26th district seat in the Ohio Senate, which is being vacated by current Sen. Dave Burke (R-Marysville).

In the video, which was recorded at the Union County Fairgrounds, Click can be heard calling Ackison "trash" and saying he doesn't believe she is a Christian.

"I am perfectly fine with calling you [trash]," Click said to Ackison. "Perfectly fine with it."

"But you're a pastor," Ackison replied. "I've never called you a name."

"Pastors proclaim the truth," Click said. "I don't believe you act like a Christian," he continued.
Seems like a guy with a good grasp on the gospel. Glad to see he serves on our governor's faith advisory council, which is a thing that should definitely exist in a country founded on the separation of church and state. Makes me feel good about any long-term decision to stay here.

THOSE WMDs. The great divide in how Americans commute to work… Excerpt from Hellworld: The wind sometimes feels in error… Alan Dershowitz: Devil's advocate… CEO: U.S. ethanol industry nearing a breaking point… Parents are surrendering custody of their children to get needs-based financial scholarships… Forgetting a child in the backseat of a car is a horrifying mistake; is it a crime?