Got deported from Mexico after four days for having too much sex hahaha just kidding that's gross I'm sorry.
U.S. Customs dumped my bag in a futile hunt for contraband and made me re-pack my belongings while rushing to catch a connecting flight to Columbus. That kept a common theme from the excursion of tienda owners, rowdy teens and other shadowy figures from Playa del Carmen whispering to my castaway Gringo ass about free samples of weed or perico as I strolled past their wares on the way to Coco Bongo the greatest show on Earth.
Thankfully I remembered the teachings of my D.A.R.E. officer who went to jail for real estate embezzlement and all those times he told us to say no to drugs between rants about the cussing cartoon characters on South Park the show that seemed bacchanalian in 1997.
The point is Mexico is an enchanting land of tranquility where you don't have to worry about what you'll do if a maniacal misogynist with a murder machine bursts through the door and starts spraying death sentences unless you owe an international drug cartel thousands of dollars.
I'm back in America the land of the free and home of the brave.
Weird how all the pro-life politicians suddenly don't care about a full-blown baby when it's poor and brown. Almost like the movement is a religious window dressing for white supremacy.
SAVE YOUR ESTRANGED CHILDREN SOME MONEY BY DYING IN COLUMBUS
I prefer life in Ohio the place I've lived 90% of my life over expensively crowded coasts I visit like once every two years. Columbus might lack proper mass transportation and reside in the middle of a state controlled by low-traveling freaks while hemorrhaging young people but it's 37% more affordable than New York City according to some random calculator I googled:
Throw another stone on top of Columbus' pile too as some company has commissioned a study citing Ohio's capital city as the second-cheapest place in America's big cities for your loved ones to put you in the ground.
From Clare Proctor of dispatch.com:
Columbus has the lowest average cremation cost among the 15 most populous U.S. cities at $2,747, according to finder.com, a site that advises its users on financial decision-making. And for traditional burials, Columbus is second-least expensive with an average of $5,737, second only to Los Angeles.

Data was collected and analyzed in August 2018, according to Nicole Gallina, communications coordinator for finder.com. The figures include the cost of a memorial service and a wake, she said.

Michael Schoedinger, president of Schoedinger Funeral and Cremation Services, which has 14 locations in central Ohio, accredits this to the fact that nearly all funeral homes and crematoriums in Columbus are family-owned, not corporate chains.

"We're blessed to have funeral home owners in Columbus who love what they're doing and get their fulfillment helping families on the toughest days of their lives," Schoedinger said. "They're not just worried about collecting their money."
Please consider this my will: If I die throw me into the nearest dumpster and use the funeral fund on something a lot cooler than putting another dead man into the dirt.
KILLING BUSINESS GETTING TOO EXPENSIVE FOR PRO-LIFE HOUSEHOLDER
Ohio hasn't found a way to murder prisoners without violating the state constitution and frustrations are showing. Noted Christian and Ohio House Speaker Larry Householder says he's starting to think the death penalty might be bad due to how much it costs the state to murder a prisoner.
From Nick Swartsell of citybeat.com:
"I think I'm probably like most Ohioans; there was a time that I was extremely supportive of the death penalty," Householder told reporters today. "But as time has gone on, I've become less and less supportive, just because of the matter of cost, for one. It is extremely expensive to put someone to death in lieu of keeping them (for) life in prison. And also, it's becoming more and more difficult to do an execution. Over the years, we've gone from electrocution to lethal injection, and now there are issues raised about lethal injection. It's just become more and more difficult to do and it's more expensive."

That doesn't mean Householder is calling for the abolition of the death penalty, necessarily. He has indicated he's waiting for viable alternatives that could permit the state to start up scheduled executions again. The state has an execution tentatively scheduled for November and another for December.

But one solution proposed by Republican State Rep. Scott Wiggam — using fentanyl seized during drug busts to execute prisoners — is a no-go for Householder, he has said. The most powerful Republican in the Ohio House of Representatives says he doesn't think using powerful synthetic opiates seized on the streets is constitutional. DeWine has expressed similar reservations about the proposal.
Like most Ohioans there was a time I was extremely supportive of the death penalty until I turned 14 and read how it's a racist and classist policy that inevitably kills innocent people and decided hmmm that sounds bad actually.
But if it takes the mythical dragon of "fiscal responsibility" to finally get this state out of the killing business then I'll take a victory wherever I can from a government I'm starting to think doesn't take this blogger's opinions seriously.
FRACKING COMPANIES RUN WILD WITH HELP OF OBSCURE OHIO LAW PASSED IN 1965
Fracking is a dirty business that poisons water tables and in pro-business Ohio energy conglomerates used an obscure law passed over 40 years ago to trample over eastern Ohio and extract its vast wealth while offering landowners pennies on the dollars and hounding them until they sold.
From Julie Grant of wosu.org:
"We normally think of the rights of the landowner as being things like the right to decide what's done with your land. Or what's not done with your land," explained Heidi Robertson, a professor of law and environmental studies at Cleveland State University.

Robertson published a law review article in 2018 about Ohio's unitization law. The law, passed in 1965, was to ensure the efficient extraction of oil and gas. Before, landowners used to setup wells all over their land, without regard to their neighbors.

But too many wells so close together, adversely affected the underground pressure that allowed the oil and gas to be extracted.

So the law requires the land for a well to be a certain size and shape. For shallow wells, that was an acre.

The law didn't get much use until the fracking boom. Nowadays, wells snake horizontally for miles, deep beneath the ground. According to industry experts, most land units in Ohio today range from 300 to 1,100 acres.

Robertson says one unit of land can have hundreds of different landowners.

"Then you have to have the agreement of all of the landowners in order to cobble together the rights to drill," she said.
The tragedy of Eastern Ohio is it's constantly used as a piggybank by state government and energy companies and none of that wealth ever seems to stay in the local communities while they're left dealing with the devastating ecological effects.
DISPATCHES FROM THE WELL-REGULATED MILITIA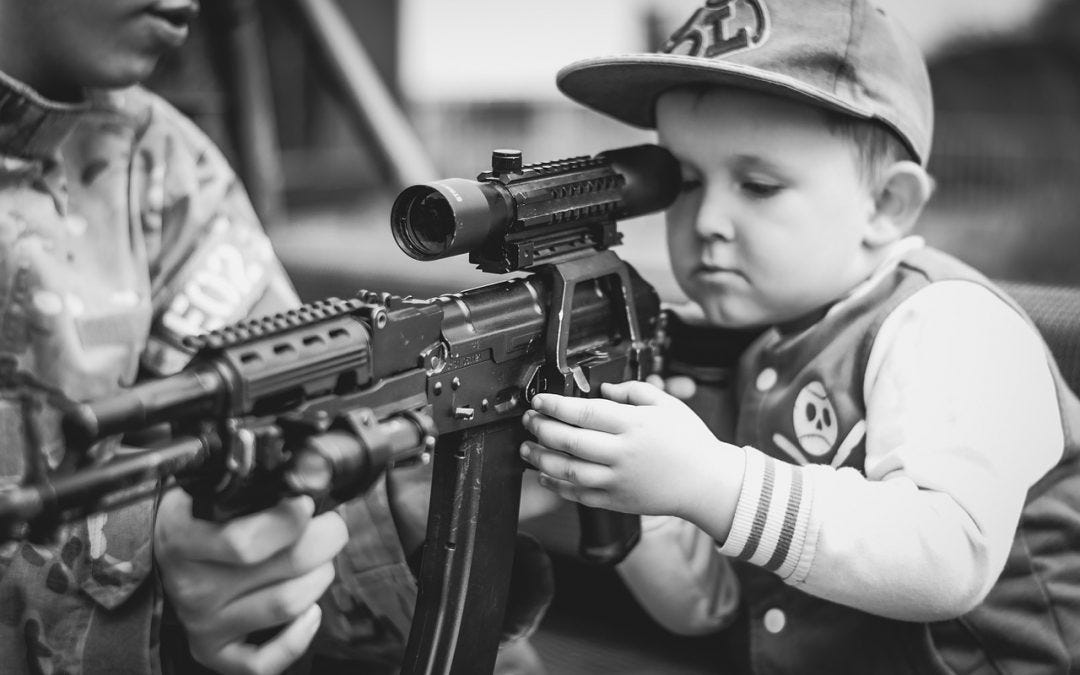 Good news for the majority of Ohioans who don't own guns as the NRA licensed a forger who provided training to people looking for the right to carry a concealed weapon.
From Eileen McClory of courier-journal.com:
A Ravenna man has pleaded guilty to charges that he handed out certifications for firearms training he was supposed to provide, but didn't.

Anthony P. Drago, 48, of 435 Pratt St., Ravenna, has pleaded guilty to two counts of falsification, both misdemeanors. He was a National Rifle Association firearms instructor who was authorized to provide the training that is mandatory under Ohio law to obtain a concealed-carry permit from the sheriff's office.

Drago's trial in Portage County Common Pleas Court was to begin Tuesday. He was originally indicted on four counts of tampering with records, all third-degree felonies; four counts of falsification, each a fourth-degree felony; and four counts of forgery, each a fifth-degree felony. According to the indictment, the incidents occurred between April 2017 and October 2018.

Portage County Sheriff David Doak has said only a few of the records went to his office and he did not believe any conceal-carry permits were issued to people who had the false records.
I figured that would be the wildest gun-related story I'd read for the day but that lasted for about 20 minutes when I discovered this rollercoaster of a story out of Morrow County.
From Dean Narcisco of dispatch.com:
A first grader who found his grandmother's loaded gun at school this spring pointed it at another student, according to an email released Monday by Highland Local Schools in Morrow County.

…

Last Thursday, school officials said Nelson had briefly gone to the restroom, leaving the gun hidden behind her desk. They said they didn't know how long the child had access to it or whether he pointed it at anyone.

"I'm assuming that the child picked up the gun from behind the desk and had been holding it," Superintendent Dan Freund said then.

But an email from the assistant transportation director — the parent of the classmate who was with the boy March 8 — told a different story.

"He pointed it at her and said 'Put your hands behind your back your [sic] arrested,'" Christine Scaffidi, the assistant transportation director, told Freund in the email.
I'm supposed to believe a teacher who couldn't even properly secure her lethal weapon around first-graders is going to charge towards the criminal wearing body armor and carrying an assault rifle and take them out with a dome shot. This is the scenario gun nuts want us to believe.
WHAT TO WATCH NEXT TIME YOU NETFLIX
My friends in Dayton that saw an early screening of American Factory say it's a banger.
From Thomas Gnau of daytondailynews.com:
Before "American Factory" became President and Mrs. Obama's first Netflix documentary, it was the quiet local project of award-winning Yellow Springs-based filmmakers Julia Reichert and Steve Bognar.

For months, Reichert and Bognar (and their colleagues) filmed a story now familiar to Dayton but perhaps new and strange to others — tracking how a Chinese billionaire bought a shuttered General Motors factory in Moraine and transformed it into what is now the largest complex in the world devoted to producing automotive safety glass, with some 2,300 American and 200 Chinese workers.

Filled with stark beauty and pain from the first frame, the story picks up from "The Last Truck," the HBO film that earned Reichert and Bognar a 2010 Academy Award nomination for best documentary, short subject. There, the duo told the story of thousands of workers stranded by GM's December 2008 plant closure.
God bless the Gem City. I can't wait to watch this tonight.

THOSE WMDs. The collapse of a hospital empire and the towns left with the wreckage… Anti-nuclear weapon activist Rick Spangler was a terrorist at home… The state with the most suicides desperately needs shrinks… The fight to make soccer less fun… Behind the Facebook-fueled rise of The Epoch Times… Fake cop allegedly tricked phone companies into giving him people's location data.