And other news from around the state we love to know.
President Business Deals on Monday called the Emoluments clause of the Constitution – the one that says it's illegal for the president to profiteer on the presidency as Deals tried to do by awarding a no-bid contract for the G7 Summit to his failing resort in Miami — "phony."
Yesterday Deals doubled down and referred to the Constitutionally allowed impeachment inquiry as a "lynching" which was asinine to anybody who has read exactly one history book about what black people have endured in this country.
Anyway here's Ohio Senator Rob Portman who I'm surprised can stand without a backbone running cover for our criminal president.
Portman looks like shit which is to say he looks like a kowtowing coward that has been carrying a sociopath's water for over two years. And this was before a career diplomat appointed by Deals testified to Congress that our orange president did indeed demand a quid pro quo with the President of Ukraine in order to gin a bullshit investigation into Joe Biden and his son.
Republicans have told me for years that Portman is an honorable man. I never believed them and once again I've been proven right considering Portman would rather hide in fear of a Trump tweet than say or do the right thing.
look forward to Portman's legacy being soiled as a Trump goon when this house of cards inevitably collapses on itself.
You freeloaders might be wondering why you're getting a dispatch on Wednesday the day usually reserved for my warhorses that respect my work enough to throw me $5 a month. Well the answer is yesterday I wrote a banger dispatch and accidentally sent it exclusively to my paying customers.
I'm not so sure today's will be as good but you can make sure you get every article I write by throwing me $5 a month.
OHIO'S ENERGY POLICY IN THE HANDS OF A FEDERAL JUDGE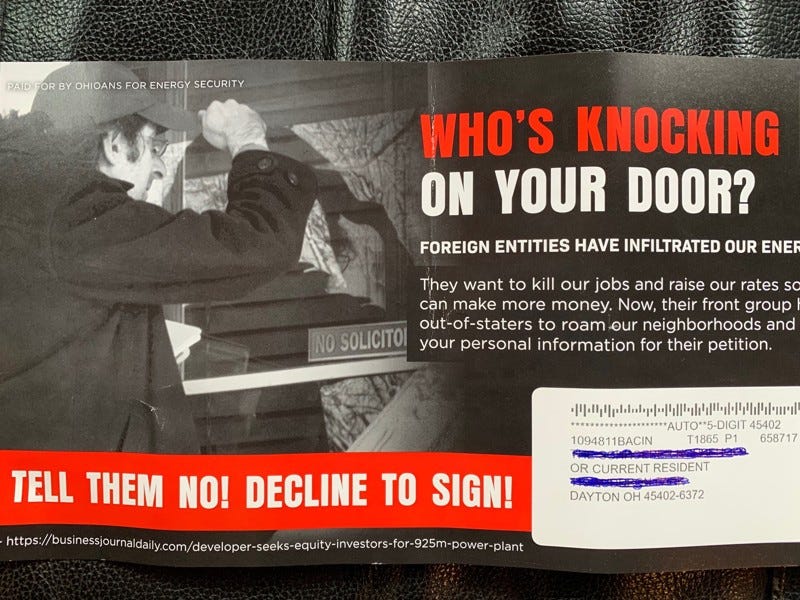 The petition drive to get a repeal of the worst energy law of the 21st century on the 2020 ballot fell short Monday when Ohioans Against Corporate Bailouts failed to file their signatures before the deadline.
The repeal effort is not dead; it just took a couple shots. Our fate is now in the hands of a federal judge who will rule today to possibly grant an extension to the good guys in light of state officials' sandbagging and intimidation tactics from the goons opposing the repeal effort.
From Jeremy Pelzer of cleveland.com:
COLUMBUS, Ohio—Backers of a proposed referendum to overturn House Bill 6 would have gotten the signatures needed to make the 2020 ballot by Monday's deadline, but they were stymied by delays in getting state officials' approval and an "extraordinary" campaign of intimidation by their rivals, a lead organizer of the petition campaign said in federal court Tuesday.

However, an attorney for the state argued that referendum backers should not be granted the 38 additional days they're seeking to collect signatures to block the nuclear bailout law, saying that their petition drive was "fraught with bad business decisions."

U.S. District Court Judge Edmund A. Sargus said he'll rule by Wednesday on whether to issue a preliminary injunction to allow more time for Ohioans Against Corporate Bailouts -- the group behind the referendum effort -- to collect petition signatures.

Under state law, referendum seekers have 90 days to collect and submit at least 265,774 valid signatures to qualify for the ballot.
Bill Clinton the infamous rapist president appointed Judge Edmund A. Sargus so that at least gives me hope the judge will rule in favor of the good guys. However I have no doubt the pro-HB6 Republicans would appeal any unfavorable ruling until it reached a ghoul with a gavel who has no problem with corporations suborning state government to its will.
FRANKLIN COUNTY LEADS THE WAY ON SAFETY FOR MARGINALIZED PEOPLE
I lambaste plenty of Franklin County politicians for being progressive in the tweets and Republican in the deets.
But credit to Franklin County commissioners for leading America on the forefront of legislation that protects our most vulnerable citizens.
From Marc Kovac of dispatch.com:
A Vancouver company will roll out an innovative alert system in Franklin County early next year aimed at reducing overdose deaths and violence against those involved in prostitution.

Under a $100,000 contract approved by the county commissioners Tuesday, Brave Technology will install wireless buttons in support housing to provide access to immediate assistance for drug users. The company also will offer its "BeSafe" mobile application, accessible through cellphones, to connect addicts and women involved in prostitution with support in case of accidental overdose or violence.

Both are designed to help residents struggling with addiction and other issues to become less isolated and to build trust with services that ultimately could help them exit destructive behaviors.

"A nonjudgmental approach at first is what builds trust," said Oona Krieg, Brave's chief operating officer. "And once the trust is built, when people need help, they know where to go. ... When it is self-initiated, change is so much more likely."
One critique I do have because I'm insufferable is I wish there were a way to offer these services to sex workers that can't afford a phone that can download apps.
Still this is a step in the right direction and I hope other counties copy the measures while we continue to build on ways to offer these services to more people than those with phones.
HEARTBREAKING: THE WORST LEGISLATORS IN OHIO WRITE GOOD LEGISLATION
My political enemies think I'm a partisan hack which would be true if I never said a positive word about Republicans ever. I'm more than willing to tilt my cap towards a Republican if they have a good idea which in my life has been like three or four times.
But credit where it's due: Matt Huffman the future State Senate president and a gang of deplorables has crafted legislation that will benefit the state as a whole.
From Andrew J. Tobias of cleveland.com:
COLUMBUS, Ohio — It will be harder to file baseless lawsuits in Ohio aimed at silencing public criticism, if a new bill introduced Tuesday makes it into law.

State Sen. Matt Huffman's bill would set up a process through which a judge could quickly dismiss a defamation lawsuit if they determine it was filed in response to constitutionally protected free speech.

The bill, which Huffman has dubbed the Ohio Citizen Participation Act, is meant to combat a legal strategy known as Strategic Lawsuit Against Public Participation, or SLAPP. The term refers to lawsuits designed primarily to stifle criticism by drowning opponents in legal fees.

The bill is backed by groups including the Ohio News Media Association, Americans for Prosperity, the conservative group tied to the Koch brothers, and the ACLU, as well as Senate President Larry Obhof, a Medina Republican. It wouldn't affect legal standards for defamation which make it illegal for people to intentionally say or publish false things meant to harm someone's reputation.
Can't wait for this bill to pass so I can really step up my slandering of the sorry-ass politicians that run this state.
BUTLER COUNTY AT IT AGAIN
I love Butler County and made many friends down there during my short political career in Western Ohio. However one thing I will say is every politician that comes out of Butler County seems to be insane enough to usually be found arguing in the comment section of InfoWars about how fluoride in our water is a CIA mind control experiment.
Middletown seems to be Ground Zero too. Right down to their city council races.
From Ed Richter of journal-news.com:
HAMILTON — A Middletown City Council candidate should drop out of the race because of his federal felony conviction in 2010, the Butler County Democratic Party chairman said in a statement Monday night.

Party Chairman Brian Hester said John P. Hart II, 59, was convicted in Cincinnati for failing to collect and pay employment taxes of his employees. Hart was sentenced to 18 months in federal prison, placed on three years supervised release and ordered to make restitution of $679,633, according to the U.S. Attorney's Office for the Southern District of Ohio.

Hart is one of six candidates seeking two open seats on Middletown City Council in the Nov. 5 general election. He owns Selection.com and is a co-owner of Start Aviation and Start Skydiving, based at Middletown Regional Airport.

…

Hester said Section 2961.02 of the Ohio Revised Code states that a person convicted of a federal felony that involves "fraud, deceit, or theft" "is incompetent to hold a public office." However, Ohio law does not prohibit someone who is ineligible to serve a public office under this provision from being a candidate for such an office
The wild part is Hart's run seems to be caused by his skydiving company's dispute with local officials about fees attached to his use of the local airport. So instead of paying what he owes he's attempting to get on city council to bend the government to his will.
This will be one of the lasting effects of the Trump era. Powerful people never felt shame but at least public opinion could cuck them into doing the right thing. Not anymore. Shitbags like Hart will simply cluck about a deep-state conspiracy and keep trying to obtain power.
DEMOCRATIC CITY COUNCILMEN CAN BE PROBLEMATIC TOO
Now we head to the opposite end of the state in Cleveland where a Democratic City Council has made a mockery of the city it pretends to represent in front of former Georgia gubernatorial candidate Stacey Abrams.
From Sam Allard of clevescene.com:
Cleveland City Councilman Blaine Griffin gave a speech at Monday's city council meeting that he will soon wish he didn't. The combative, elitist remarks once again fortified council's "us vs. them" mentality when it comes to their constituents and will haunt the Buckeye-Shaker councilman if he runs for Mayor in 2021, as is widely assumed.

Griffin's floor speech was inspired by a voter rights forum hosted by the Ohio Democratic Party and the Service Employees International Union Saturday. It featured as a special guest Stacey Abrams, the voting rights activist and 2018 Georgia gubernatorial candidate. At the event, an SEIU member asked Cleveland City Council President Kevin Kelley to leave. Kelley was escorted out.

…

"We must protect this house," Griffin said. "We've got to set a tone that nobody should ever mess with this body. These folks need us because we were duly elected and we put ourselves out there to work hard on behalf of the citizens, not them... The body of this council needs to be shown respect whenever we go anywhere. We need to send a strong message that when you mess with us, you will be dealt with."
I don't care what party you belong to. Anybody in power who says "we've got to set a tone that nobody should ever mess with this [duly elected] body" isn't fit for office in America and should immediately booted to the bread line.
If this guy becomes the mayor of Cleveland then I'm starting to think our entire state is fucked.
THE NEW YORKERS ARE COMING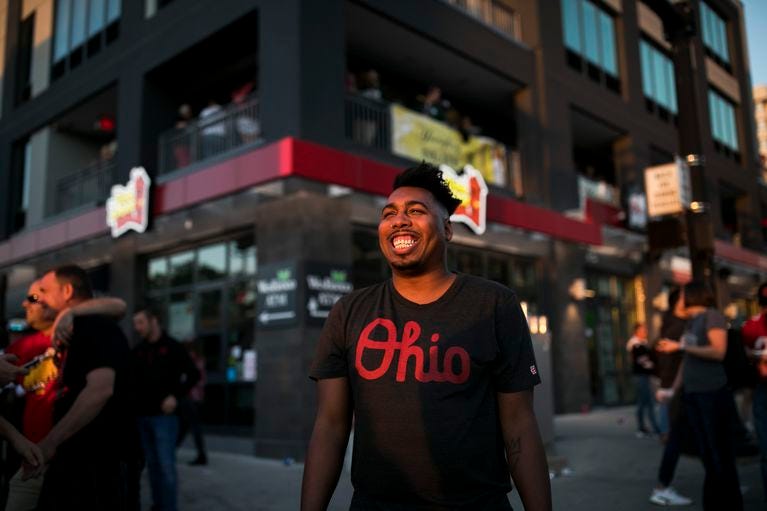 The last thing I want is New Yorkers moving to Columbus and thinking $1,400 for a "luxury" apartment is affordable but I am enjoying the saga of Saaed Jones the author of How We Fight For Our Lives who recently abandoned the Big Apple and chose Columbus of all places.
From Nneka McGuire of washingtonpost.com:
On a recent afternoon, Jones — exuberant and chatty, wearing a red "Ohio" T-shirt — swings open the door of his Columbus apartment and envelops me in a hug. Any East- or West Coaster who enters his amenity-packed home is likely to be thwacked with a heavy mix of emotions: awe, admiration, envy. Mainly envy. Sunlight filters in through an expanse of extremely tall windows. ("I wish you could see the sunset, because girl, it's crazy," he says later.) Jones's wooden writing desk, paired with a cheery orange chair, resides in a corner of the living room, allowing him to compose poems while drinking up the great views of his hip neighborhood. Although his latest book is an autobiography, Jones — whose debut poetry collection, "Prelude to Bruise," was a finalist for the National Book Critics Circle Award and was awarded the 2015 PEN/Joyce Osterweil Award for Poetry — continues to write poems.

Greenery dots the space — small ferns, a Sansevieria, a ZZ plant. The atmosphere is soothing (and the price, at $1,400 a month, makes me want to sob).
Really could have done without the mentioning of a $1,400 "affordable" apartment in The Washington Post the paper read by East Coast plutocrats but I'm in a forgiving mood considering Jones spread the gospel of drinking liquor in a parking lot with strangers before the big game.
In Columbus, he's embracing everything the city has to offer, including tailgating, an activity whose appeal surprised him.

…

Tailgating evokes images of crowded parking lots, rowdy fans, burgers and beers and the backs of vans or pickup trucks. Yet we begin our afternoon in a large, industrial, rather sedate bar and restaurant two miles from Ohio Stadium, about to order spiked seltzer water. Soon, more drinks are ordered and Jones and three friends move outside, into the sunshine-y, 70-degree afternoon. At last, outside Varsity Club, a sports bar spitting distance from the football stadium, I spy full-on revelry. We flash our IDs then filter into a gated area, the six of us a tiny trickle into a sea of fans. People eat pizza, people loiter, Sugarhill Gang's "Apache (Jump on It)" plays and people dance, some better than others. Time marches forward, and as we near 7 p.m., Jones and his friend Matt Arnstine — who are attending tonight's game — start pulling away.

Hours later, after Jones has live-tweeted a considerable chunk of the game to his 125,000-plus followers ("I just surprised myself cheering without irony. OMG."), he slips out at halftime. OSU goes on to beat Michigan State, 34-10.
Secret is out folks. Go ahead and choke your landlord into a 20-year lease because rent prices are going up.
THOSE WMDs. An ancient history of piracy… Portrait of an inessential government worker… The story of France's most extraordinary pastry… The most incarcerated zip code in the country… How a band of surfer dudes pulled off the biggest jewel heist in the history of New York… The enigma behind America's freak 20-year lobster boom.